We recently hired "Smokin Georges" to cater our wedding of 150 guests and we were blown away. The food exceeded our expectations and provided a variety that pleased all of the guests at our wedding. We received huge numbers of compliments about the food, many of the guests now plan on hiring "Smokin Georges" for future events. The staff were incredibly professional and worked very hard to create a menu that suited our theme perfectly. I would highly recommend "Smokin Georges" to anyone who is planning a wedding, party or any other event.
We recently had Smokin' George's BBQ cater our staff luncheon and what a treat! George supplied more pulled pork, smoked chicken and beef brisket than all our hungry guys could eat, plus all the trimmings (the potato salad is a must try if you haven't already). Everything was hot and ready to go right on time and he even offered to deliver. Nanaimo's best BBQ was a welcome change from the the ordinary and we're looking forward to the next time he caters an event for us!
Everything was great on Friday. The lunch was a big success. Everyone was happy to have something to eat rather than pizza. There was plenty of food and it tasted delicious. We will definitely do it again one day.
We hired Smoking Georges to cater our wedding this past weekend and they blew the crowd out of the park! The staff were professional, food delicious and a crowd pleaser for sure. We had 110 guests with children, seniors, meat lovers, gluten free and vegetarians. Lea planned an excellent menu that delighted everyone's taste buds. Smoking Georges can be 100% trusted for top notch service, quality and taste. I would recommend this business to anyone planning a BBQ, wedding or family gathering. The ribs and all the fixings will not be forgotten
Dear Lea, I just wanted to thank you for the great job you and your company did catering to our social function on March 8, 2013. It was very hard pin pointing how many actual bodies we were going to have actually attend and you worked with me adjusting the menu as we went along. The food was delicious and I would highly recommend you and your catering service to anyone who wants something a little different, fun and delicious!!
Everyone was absolutely happy, happy, happy with the catered luncheon! The brisket was out of this world tender and tasty, and of course so were the ribs and pulled pork. All you had to do was listen to the ooohs and aaaahs when people were eating. The salads were fabulous – especially the black olive & penne salad – it was a major hit. Dessert – also awesome! Thank you for making our office celebration that much more wonderful with excellent food!"
Smokin' George's BBQ has catered a number of our meetings and seminars over the last few years. Always punctual, provide great food and service every time. If you are looking for a change or to spice up your next personal or business event, call Smokin' George's.
Hi Lea & George, Thank you for providing the food for our wedding! The food was SO GOOD! I heard a few people say "best wedding food ever!". I agree It was so great! The salads were delicious, all was so good. We had a great time and everyone was full and very happy with the food. Thank you for the kind wishes! Take care,
Hi Lea, We had great reviews from all of our guests who loved the food. I really liked the salads, such a nice change from the standard fare. It elevated the whole meal to elegance. LOVE your cornbread! And the mac and cheese which I managed to snag a bit of leftover on Sunday. We enjoyed all the leftovers for dinner on Sunday night. Your team were great to work with and my thanks to you for your assistance with setting up the dessert buffet. Please feel free to use us as a reference for any upcoming events, we would be happy to give our wholehearted recommendations.
SD 68 (Nanaimo-Ladysmith) recently contracted Smokin' George's BBQ to cater a district function that involved many diverse appetites and needs. Simply put, 'they delivered' on every account: cost-effectiveness, variety of tasty dishes, and professional/friendly service. Their coordination (set-up, service, and clean-up) was seamless- that allowed our meetings to have both first rate cuisine and a relaxed, productive work session.
Food was awesome, everyone really enjoyed it, portions worked out well, had a bit left over as I had ordered a couple extra so we have been working on the left overs ourselves, YUMMY! The warming box you sent the meat in worked fantastic, was still HOT at 5:30 so will take advantage of that again. Thanks very much Lea, a Job Well Done by everyone on your Staff
I have nothing but fabulous things to say about lunch and have had nothing but RAVE reviews from everyone in attendance.
The BBQ was a huge success! Everyone raved about the meat (except for the vegetarian). I was hoping for left overs- no such luck! Thanks again for a bang up job!
To Lea & George: We would like to thank Smokin' George's BBQ for the fabulous catering job you did for our very large team of employees at the Shaw office in Naniamo. Our BBQ was a huge hit! Your service was quick and friendly and the food was excellent. Plus, having the food truck on-site added a fun & relaxed 'vibe' to the afternoon. We're looking forward to more Smokin' George's! Thanks again from all of us at Shaw!
Hi Lea, THANK YOU. The food was amazing, we had so many people rave to us about the deliciousness. It really was so good. It was also good the next day. We were all super happy, so thanks again for everything! I would totally recommend you guys again and again for a wedding or special event.
From the moment I called Smokin' George's to book them for an event for 200 people with 3 days notice I was truly impressed with their customer service. Lea was an absolute pleasure to speak with and was extremely helpful in assisting me with a custom menu for our event. George and Lea arrived on site with smiles on their faces and fantastic attitudes, I didn't have to worry about the organization of the tables as George and Lea created a beautiful table set up which fit right in with our Western theme. There are not enough words to describe the amazingly delicious cornbread or the taste bud tantalizing sliders they served, everything from the beans to the homemade chips was ASTOUNDING. I highly recommend Smokin' Gerorge's to cater your event, you will not be disappointed.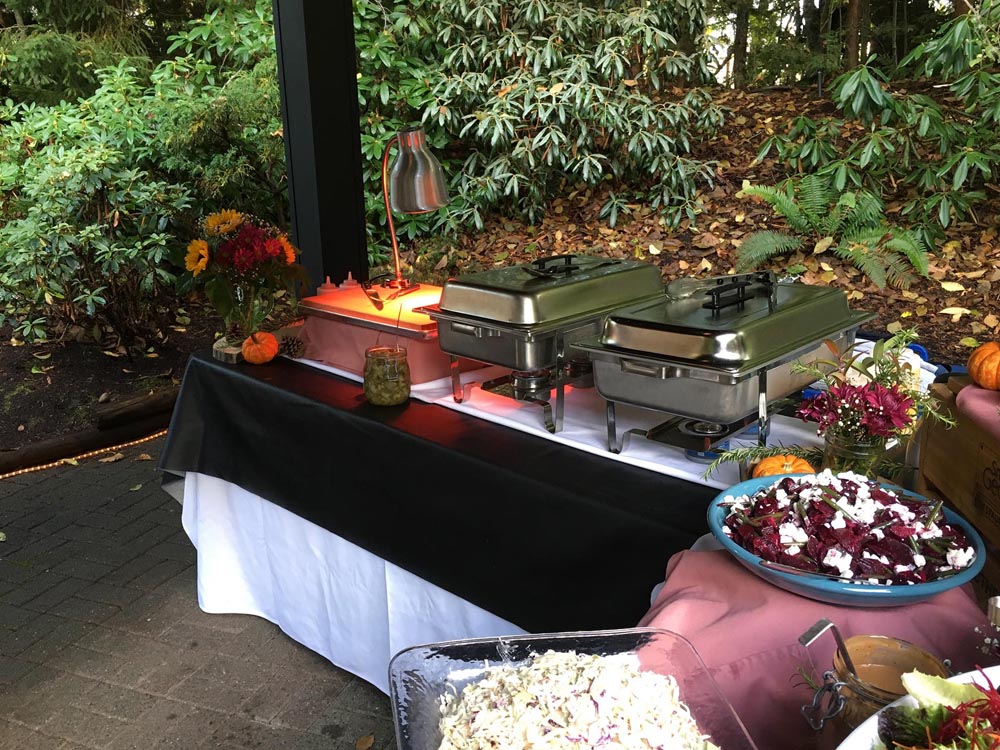 Lea, thank you for an excellent job! The compliments on the food at the open house were truly overwhelming. People LOVED the product. You have a business with huge potential and I am really excited about the future of your business!.